Trigger warnings for our shows are available at www.lashings.org/triggers.
Coming Up
Nothing planned right now, watch this space.
Past Shows
Quiltbag Cabaret
What: Quiltbag Cabaret is a regular arts and performance event in Oxford. They say: We aim to be an inclusive and accessible space for the queer and feminist communities and our allies to socialise and create art together.
February's event is in honour of LGBT History Month, and is raising money for PACE. Here's the Facebook event.
When: Saturday 8 February 2014, 7.45pm
Where: East Oxford Community Centre
Fanny Whittington
Whatever the streets of London are paved with, it's certainly not gold. Mayor Dick has even made unemployment illegal! Can Fanny:
Save her pet rat Basil from mortal peril (BOO!)
Win the love interest of her dreams (AWWW!) - and
Avoid becoming the world's most unpaid intern?
Oxford Fringe:
Thursday 6, Friday 7, and Saturday 8 June 2013
10-11pm
Old Fire Station, 40 George Street, OX1 2AQ
Book your Oxford tickets!
Edinburgh Fringe:
12th-17th & 19th-24th August 2013
8:15pm to 9:15pm
Gryphon 1, Point Hotel, 34 Bread Street, Edinburgh EH3 9AF (Fringe venue 109)
Book your Edinburgh tickets!
Pirate Cabaret!
When: Saturday 27 April, doors open 6.30pm
Where: The Pirate Castle, Camden Town
We're currently fundraising in order to take our marvelous pantomime, Fanny Whittington, up to the Edinburgh Fringe, so as well as all the usual delights of Lashings, there'll also be a sneak preview of the upcoming panto!
Guests will also be able to partake in a range of scrumptious baked goods made by the cast themselves, as well as purchase some awesome Lashings merchandise; but if you really can't wait till then, you can always donate to our Indiegogo campaign!
What: Enjoy cosy sofas, tea and cake, while we try out some new acts and introduce some new members.
When: Sunday 16 December, 3.30pm
Where: East Oxford Community Centre Bar
EdFringe
When: Friday 3 - Friday 17 August, 8.30pm (1h)
Where: The Bongo Club, 37 Holyrood Road, Edinburgh
London alt.sex.ed Preview - featuring CN Lester
Nottinghamshire Pride
What: Lashings and Sally will be performing several short sets
When: Saturday 28 July, throughout the afternoon
Where: The trans* tent, Nottinghamshire Pride.
Moulin Rage - Brighton
Moulin Rage - Cambridge
When: Wednesday 20 June, 6-11pm
Where: Cambridge Unitarian Church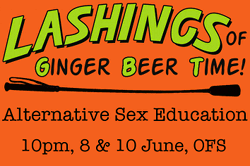 OxFringe
When: Friday 8 & Sunday 10 June, 10pm (1h)
Where: The Old Fire Station, central Oxford
Gender Rebels!
When: Sunday 11 March, 7.30pm
Where: Linacre College, Oxford
Lashings of Ginger Beer Time.. the panto?!
What: we branch out into theatre with narrative - and audience participation!
When: Friday 3rd February, 8pm
Where: The Pirate Castle, Camden Town
What: a queer feminist celebration - film, poetry, comedy, and your last chance to see the Lashings Panto!
When: Saturday 11th February, 7pm
Where: East Oxford Community Centre
Lashings of Ginger Beer Times Two @ The Edinburgh Fringe
What: Lashings and Sally preview their Edinburgh shows.
When: Thursday 4 August, 7.30pm
Where: The Bullingdon Arms, Cowley Road, Oxford
What: A fundraiser for Rape Crisis South London.
When: Wednesday 27 July, 7pm
Where: The Dogstar, Brixton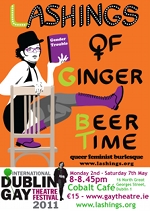 The International Dublin Gay Theatre Festival 2011
When: 2-7 May, 2011 - 8pm
Where: Cobalt Café, 16 North Great Georges Street, Dublin 1
Carnival of feminist cultural activism
When: 3-5 March, 2011
Where: York University
London Ladyfest 10
Goldsmith's Freshers' Week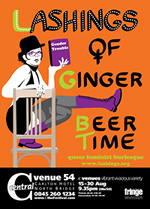 The Fringe
When: 15-30 August, 2010
Where: C Central Cabaret Bar, Carlton Hotel, Edinburgh
A different show every night - the only constant was Sally, "the most interesting and original stand-up". Itcia and Silvestre perfected You're the Top; audiences loved Vagina Dentata (Florestan and Lilka as predatory radicalesbians with Robette or Annalytica as ingénues ripe for corruption..) Sebastienne mostly MC'd, Galla Téa and Carlotta made celebrated guest appearances, and Bas was the king of flyering.
Fringe warm-up
When: 7 August, 2010
Where: The Roebuck, Borough, London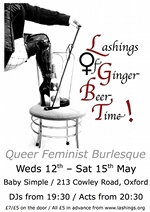 Fringe fundraiser
When: 12-15 May, 2010
Where: Baby Simple Bar, Cowley Road, Oxford
Four nights raising money for Edinburgh - as well as a chance to try out lots of new acts! This was where we found magnificent tech Carmilla (of fab steampunk band Doctor Carmilla and the Mechanisms).
St Hilda's Queer Cabaret
When: 26 February, 2010
Where: St Hilda's College Bar, Cowley Place, Oxford
Sebastienne wishes it to be know that we SUPPORTED BORDERVILLE at this gig. And they played songs from HEDWIG.
Ladyfest Goldsmiths
When: 22 February, 2010
Where: Goldsmith's University, London